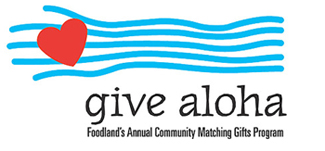 Foodland's "Give Aloha" Fundraiser – Donation Code: 77136
GIVE ALOHA CAMPAIGN for SEPTEMBER 2021
For more information about Foodland Hawaii's Give Aloha campaign and a list of participating locations, click here.
September is the start of the annual Give Aloha campaign, a fundraiser for various non-profit organizations held in partnership with Foodland Hawaii and the Western Union Foundation.  At participating Foodland, Sack N' Save, and Foodland Farms, you may donate up to a max of $249 per person, per organization at checkout.  As part of the fundraiser, Foodland and Western Union will also match a percentage of your donation to the non-profit organization.
For many years, WUCC has participated in the Give Aloha campaign, and has been blessed with the donations of those from within the congregation and from friends out in the community.
Please consider donating to the WAIALUA UNITED CHURCH OF CHRIST when shopping at Foodland, Sack N' Save, and Foodland Farms by telling the cashier you would like to donate as part of the Give Aloha campaign with the following code:  
77136
NOTE:  In order to donate, you must possess (or sign up for at check-out) a Maika'i Card.